OCTOBER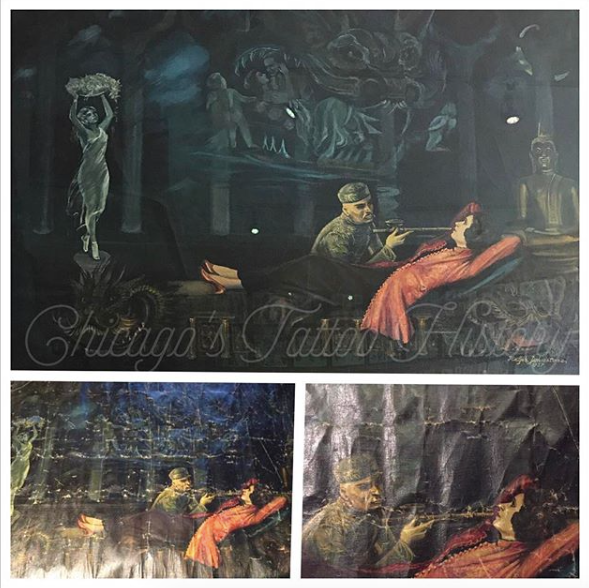 Opium den painting by Ralph Johntstone
Here are a few detail shots of a before and after restoration of a Ralph Johnstone oil painting from 1937. This painting was found in Pennsylvania. The woman who discovered it wanted to learn more about the painting. She did a Google search and found a lot of information on Ralph Johnstone and Chicago tattoo history posted by Nick Colella. Nick was able to share background information on Ralph Johnstone and ultimately was able to purchase the painting.
When Great lakes Tattoo owners Nick and Sarah acquired this painting it was in really bad shape. They immediately had a full museum restoration done to try and save it. Full restoration took approximately 9 months. As a result the restoration brought out the amazing colors and details of one of Johnstone's most impressive paintings. There are a couple before shots to see how rough it was when it was received. This now hangs in the lobby at Great Lakes Tattoo for everyone to enjoy. This is why we do what we do. This is why we are so serious about our lineage. This is tattoo history. This is Chicago tattoo history.
GLT Chicagorilla crewnecks
The GLT Chicagorilla crewneck is back again! This year the GLT Chicagorilla is printed in the same tan found in our front wall stripes that were painted as an ode to Tatts Thomas' arcade wall on State Street. Not to worry, these are printed on the same super soft sweatshirts that we've have used for all of our previous crewnecks only now in camo! They are available for pre-sale in our web-store now and in the shop by mid October.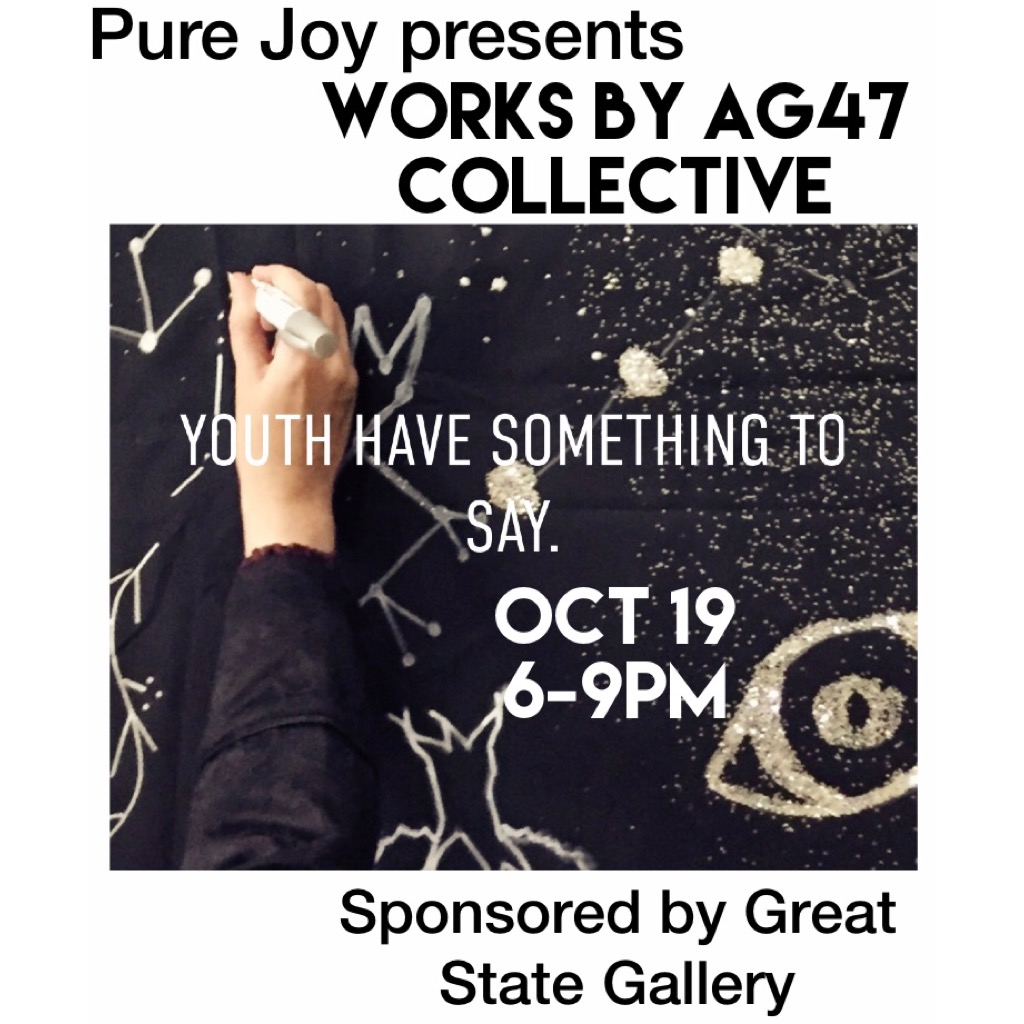 This month in our gallery space:


Pure Joy presents
Works by AG47 Collective
Sponsored by Great State Gallery (@greatlakestattoo) October 19 6-9PM
Complimentary drinks provided

"Pure Joy's mission is to support, enrich, and collaborate with art, music, and activist communities in Chicago through events and educational programs with the eventual goal of opening an all ages, accessible performance and meeting space."
"AG47 KNOWS THAT YOUTH CREATIVE VOICES SHOULD BE AMPLIFIED AND THEIR STORIES SHARED. THE COLLECTIVE ACHIEVES THIS THROUGH ARTISTIC COLLABORATION AND ONE-TO-ONE MENTORSHIP BETWEEN YOUTH ARTISTS AND ADULT MENTORS."